Join us all day on Thursday, October 1st for Green Commutes and enter to win prizes!
We'll be providing resources and fun tips all day about getting around Central Oregon by foot, mobility device, bike, scooters, skateboards and cars. 
How to Participate!
Follow along on The Environmental Center's Facebook and Instagram pages all day (10/1) for Oregon Friendly Driver Trivia!

Go to commuteoptions.org to find suggested walking and rolling routes and plan your neighborhood Green Commute!

Create your account on Getthereoregon.org and log your trip to enter in the prize drawing!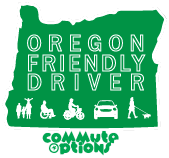 Oregon Friendly Driver
Free, 75-minute interactive class to educate people who drive on the best and safest ways to use the road with people walking or riding bikes.
The Oregon Friendly Driver class addresses:
The safest ways to utilize your roadway network
The rules of the road for people driving, people riding bicycles and people walking
How to avoid common crashes
How people riding bikes use the road and how people driving can respond
How to use road way features: sharrows, bike lanes, and rapid flashing beacons
Plan Your Route
We have a few suggested walking and rolling routes across Central Oregon. Pick one of these or plan your own!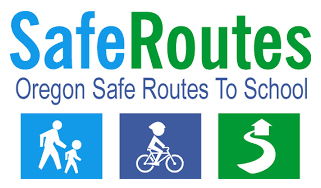 SAFE ROUTES TO SCHOOL
 BENEFITS COMMUNITIES BY:
Educating the community about the benefits of walking and rolling to and from school.

Improving transportation for all students, parents, and teachers.

Reducing the number of driving trips to and from schools to improve air quality and congestion.

Identifying supporters in schools to build the program and coordinate activities.

Educating youth on how to safely use the system when they are walking and rolling.

Improve community members' overall quality of life.

Get There
Easy-to-use online tool to track your walking, biking, telworking, transit and carpooling trips!
Create an account and track your Green Commute! You'll be automatically entered into today's prize drawing!
Sign Up
Enter Your Trip
Earn Prizes!
Commute Options actively promotes walking, bicycling, carpooling, teleworking, and using public transportation to create livable communities and enhance the quality of life in Central and Eastern Oregon for 30 years. During this time we have developed programing to increase the number of people walking, rolling and driving less in our communities we serve. Beyond reducing vehicle miles traveled, we educate and encourage the next generation to choose smart transportation options that creates a cleaner and healthier environment. Most notably, we work with large employers to help reduce their carbon emissions by offering a rewards program for employees who choose carpooling or active transportation. Over the 18 counties we serve, our programs support individual wellness, a clean environment, and a strong economy.