Fun, safe, physical activity for kids walking to and from school!
What is a Walking School Bus?
A Walking School Bus is a group of students walking to and from school on a planned route with an adult Leader. Much like a school bus, as the students walk to school, they can pick up more classmates along the way.
How does it work??
Contact us to find out if there is an ACTIVE Walking School Bus Route near you.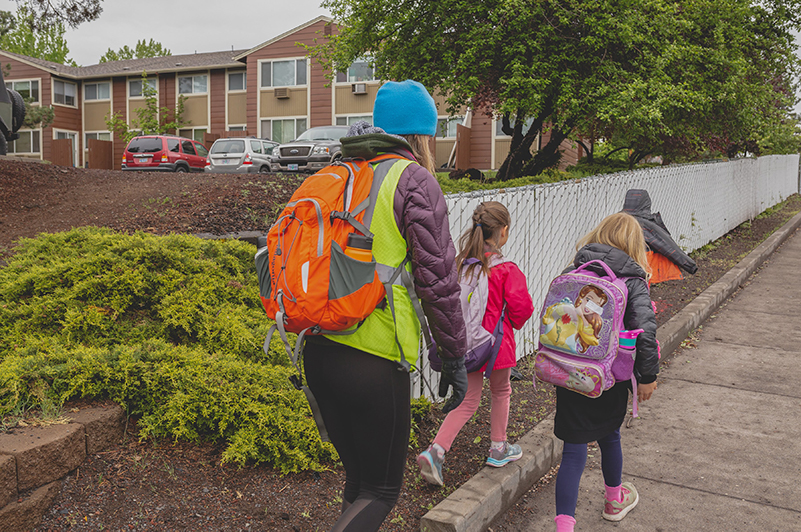 The group meets at a designated Meeting Location and follows the planned route.

Hop on, Hop Off! – Live along the route? Students can join us on the way.
Recommended Walking Routes 
Check out our walking maps for recommended walking routes here and start your own Walking School Bus group today.
Jefferson County School District Suggested Walking Routes
Redmond School District Suggested Walking Routes
Sisters School District Suggested Walking Routes
Minutes of physical activity increased!
Community involvement
Learn safe walking tips
Students arrive on time and engaged
Less congestion at arrival and departure times
Cleaner air around school
Support for families – children who need to walk can now walk with a group
Saving money on gas and time
Fun for students, families and the community!
Live too far from school?
You can drop off your student at your school's meeting location – Park and Walk.
Do you walk in all weather conditions?
Yes – rain, snow, ice, and sun. In cases of inclement weather or extremely high Air Quality Index we will follow the schools protocol for cancellations. Leaders will communicate any changes.
I don't live on the route - can my student still join the Walking School Bus group?
YES! This is where the Walking School Bus differs from the normal School Bus – Any students that attend the school can join the group as long as they register. Parents/Caregivers can drop students off at the meeting locations and they can join us – they do not need to live on the route. Avoid drop off area congestion and stress, and drop your student off with us.
How will the leaders and parents/caregivers communicate with families if there are delays or if a problem arises?
This is determined by the families registers for the group. GroupMe is an Application we often use (this allows for phone numbers to remain private), but some families prefer a group text or email. We will determine what is best for everyone and implement it as the group is formed.
Can my student bike or scooter with the Walking School Bus Group??
Unless it is a Bike Train (which is like a Walking School Bus but EVERYBODY is on wheels – bike, scooter, skate, etc), we recommend all students walk. Sometimes scooters are fine – but if the trail is gravel it can be challenging for scooters. Bikes can be fine too if the rider stays at walking speed and/or walks their bike so they stay with the group.
What if the Walking School Bus Leader has to call in sick or can not make it?
We will do our best to find a sub on any day a Leader is not able to be there. If we cannot find a replacement leader from our list of subs, then we will notify families by phone, text, and/or email that we need to cancel.