Outside the bus zone? Try a Vanpool.
Get to know people in your community and share a ride to work in a vanpool.  Be social, save money, and help the environment by taking your car off the road!
Anyone with a commute that starts, stops, or passes through Crook, Jefferson, or Deschutes county qualifies for Commute Options' Vanpool Subsidy program.
There's Help!If you are having trouble finding riders, visit Get There Oregon to help match you with fellow commuters. Commute Options and Commute with Enterprise can provide flyers or coordinate marketing events with your employer, and those nearby, to find additional riders. If you have questions, give us a call at 541 408 6111.
A vanpool is a prearranged group of 5 – 13 people sharing a ride to and from work on a regular schedule and is similar to a carpool except Commute with Enterprise provides the vehicle.  The great thing about forming a vanpool is each vanpool group controls its route and schedule, and can alter either at anytime. If you have at least five fare-paying passengers and can provide a lead and backup driver, you can lease a vehicle from Commute with Enterprise and start a vanpool.
Vanpool passengers pay a low monthly fare of the daily mileage divided by the number of passengers, which covers the van lease, fuel, maintenance, and insurance.  There's also an Emergency Ride Home program included, so you never have to worry about getting stuck at work in case of an emergency.
Vanpool is a mode of transit that benefits everyone. Some of the benefits are:
An affordable ride;
A safe, relaxed, reliable commute;
Less wear and tear on your vehicle;
Personal satisfaction for easing traffic congestion and air pollution.
The community will also benefit from the vanpool program in the following ways:
Reduced traffic congestion; and parking needs
Reduced greenhouse gas emissions;
The money saved on sharing your ride may be spent locally.
1   Talk to co-workers. Find at least four additional people who have a similar commute and want to save money by sharing the ride with you. You can also use the ride matching service Get There Oregon which matches you electronically with other commuters.
2   Find drivers. From your group of commuters, find two or more volunteers with good driving records. One driver is "primary" and the other is "backup." All drivers must complete a free Van Driver Orientation provided through Commute with Enterprise. 
3   Call us. Once you have enough commuters, it's time to call Kim Curley at Commute Options 541 408 6111.
4   Relax! That's all there is to forming a vanpool! Other than some paper work to complete, you're ready to start saving.
Thanks to the Oregon Legislature and the employee paid payroll tax supporting Public Transportation, Commute Options is offering a $500 per van/per month subsidy to help start more vanpools in Central Oregon. 
Find at least four more people who have a similar commute and want to save money by sharing the ride with you. Not sure how to find them? Use 
Get There Oregon
 to find matches to other commuters electronically. 
Members must pay the monthly van lease based on the type of vehicle and length of trip made in the van. The fees cover the vehicle, maintenance, and insurance!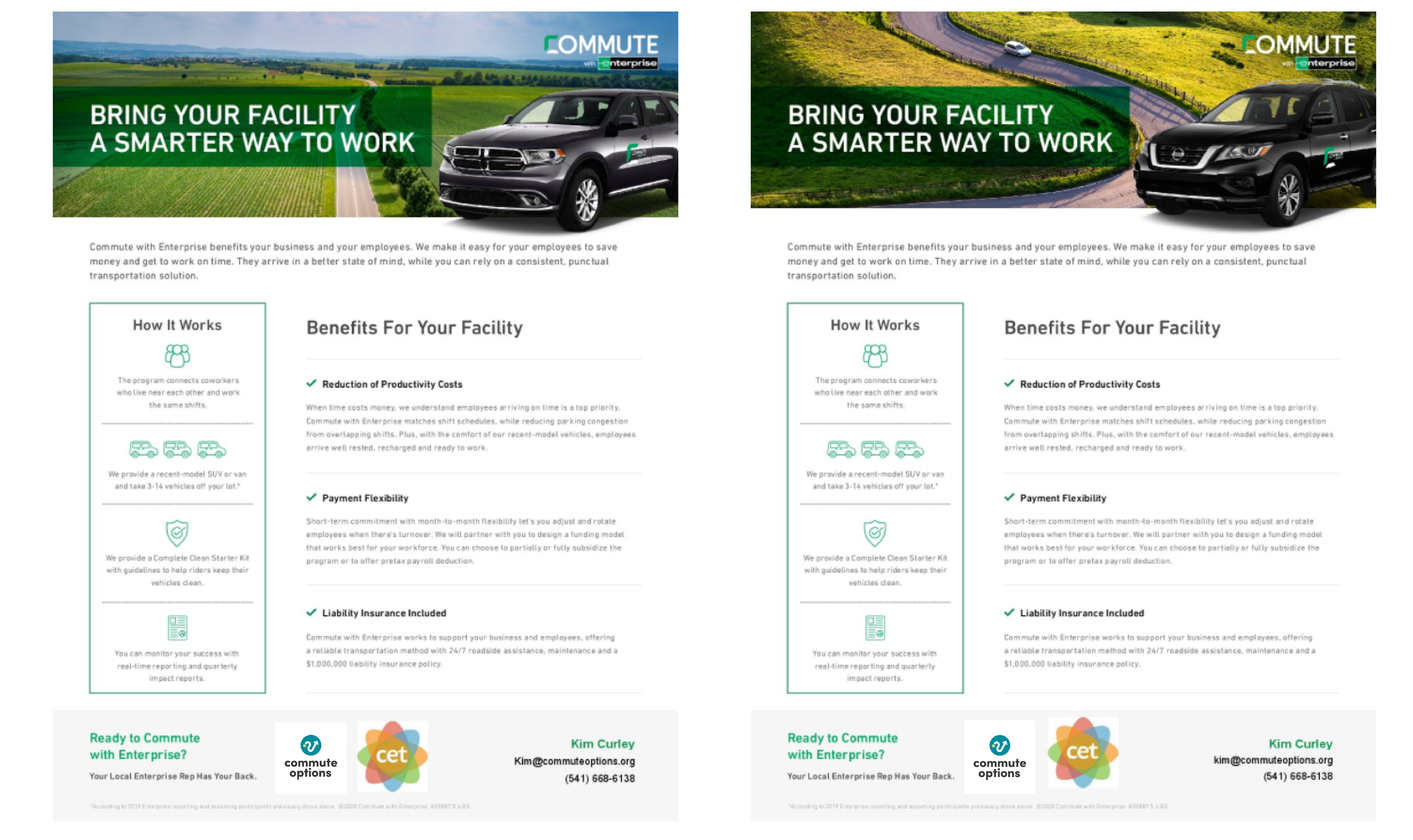 Commute Options has partnered with Cascades East Transit and Commute with Enterprise to startnew vanpools into and out of Deschutes County
Vanpooling offers benefits to your business and your employees. A van makes it easy for your employees to share a ride to and from work—connecting people who live near each other. Your employees save money, get back time for themselves and arrive in a better state of mind. And, fewer solo drivers will help your company reduce carbon emissions and parking congestion
If you have 5+ people who share a similar commute and schedule, you can create a vanpool. Enterprise will provide an SUV or Van. Each rider pays a set fee per month, which covers all the costs, like gas, insurance, repairs – everything! Commute Options has funds to help groups buy down the cost of the monthly lease.
See more from KTVZ and in the Cascade Business News.
Check out the routes currently running in Central Oregon on Get There! (July 2021)
Benefits for your Business
→ Retain and Attract Top Talent
50% of people say that their commute significantly impacts the way they feel about their job, according to Forbes. Offering employees an easy way to get there is a competitive benefit that makes employees excited to be part of your team.
→ Reduce Infrastructure Costs
By reducing the number of cars commuting to your office each day, your business will spend less on parking infrastructure. And, you can use those savings to invest in your business or people.
→ Improve Sustainability
Employees want to work for environmentally responsible companies. By making it easier to share rides, your company can dramatically reduce its carbon footprint, and your employees will help eliminate 1.1 billion pounds of carbon emissions and 1.5 billion commuter miles every year.