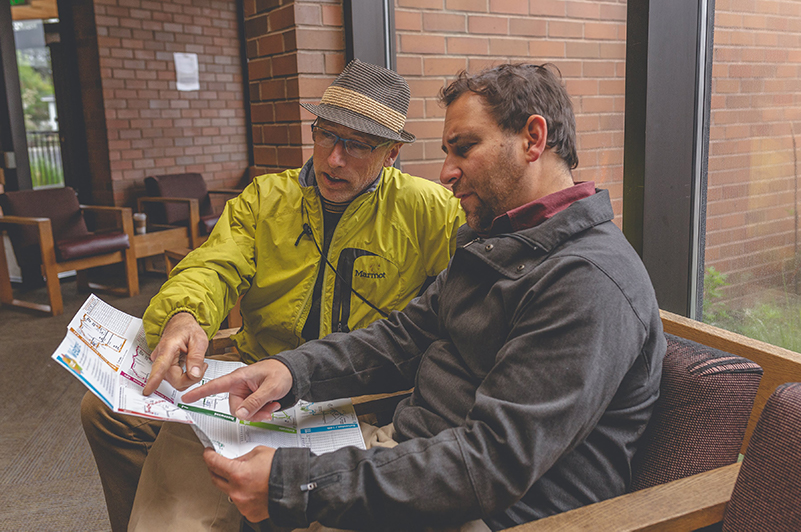 About
Commute Options is dedicated to innovative transportation options that connect people of all ages to the places they go – employees to their workplaces, students to their schools, and neighbors within their communities. We champion active transportation and infrastructure improvements, fostering essential partnerships, and educating the community on transportation options.
Mission Statement
Commute Options increases access to transportation options across Oregon.
Vision Statement
We envision communities using safe, convenient, and reliable transportation options that result in healthier individuals, a cleaner environment, and a stronger economy.
Values
Mobility and Connectivity:  We believe people of all ages, abilities, and income levels deserve to move reliably and conveniently between destinations using affordable, well-coordinated transportation options. 
Accessibility and Equity- Getting from Here to There:  We strive for user-friendly and convenient connections to and between services and travel modes in urban, suburban and rural areas. Transportation options provide affordable, safe, efficient, and equitable ways to access jobs, services, and key destinations, improving communities across Oregon. 
Health:  We believe in transportation options that foster improved mental and physical well-being by enabling access to healthcare services, groceries, shopping and other essentials and offering more ways to add physical activity into everyday life.

Safety and Security:  We believe that everyone deserves the right to feel safe and secure while traveling throughout their communities.

Sustainability: Transportation options contribute to a healthier environment and climate. Our work is focused on moving people by more efficient modes, which reduce greenhouse gases and other pollutants.
Notification of Compliance with Title VI
Commute Options operates its programs and services without regard to race, color, or national origin in accordance with Title VI of the Civil Rights Act. Any person who believes they have been aggrieved by any unlawful discriminatory practice under Title VI may file a complaint with Commute Options.
Information on Commute Options civil rights program, and the obligations and procedures to file a complaint, can be found on the Commute Options website: www.commuteoptions.org. This information is also available upon request, please inquire at the Commute Options office or call the Executive Director, Brian Potwin, 541-668-6138.
A complainant may also file a complaint directly with the Federal Transit Administration: Office of Civil Rights, Attn: Title VI Program Coordinator, East Building, 5th Floor-TCR, 1200 New Jersey Ave., SE, Washington, DC 20590.
If information is needed in another language contact Commute Options, 541-668-6138.
Si se necesita información en otro contacto de lenguas Commute Options, 541-668-6138.