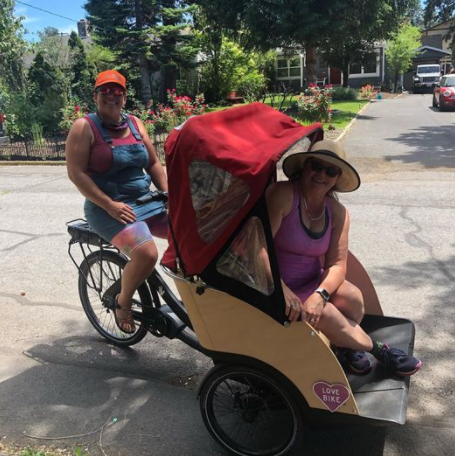 When walking around the Old Mill or Downtown Bend, you might notice a unique bike riding around. This is the Love Bike, founded by Courtney Van Fossan in partnership with the Base. The Love Bike started as a way to help people experience the beauty of Bend by biking, regardless of age or ability.
We got the opportunity to interview Courtney recently, to learn more about the Love Bike, what it is, and what it plans to grow into.
When we called Courtney, she was actually getting on the Love Bike for a ride, with the newest driver, Slade. She explained that the bike is essentially the same as a pedi-cab, but the passenger sits up front to soak up all the beautiful Bend views.
"It's a really fantastic way to get people around, especially people who have less mobility. And tourists! You see a lot of tourists who don't know how to get from downtown to the Mill," Courtney explained.
Courtney also works at the Base on Franklin Avenue, a community group that works with neurodiverse folks, offering therapeutic and fun group activities. Courtney hopes to buy more bike, and hire drivers from the Base to expand Love Bike services.
Currently, the Love Bike takes trips to and from Downtown and the Old Mill – but Courtney wants to increase the routes to West Bend and the Core Area.
Courntey offered advice for people wanting to mix up their commute, and bike, walk or roll around more:
"Start off small, go some place you haven't been to and explore it in a different way. We have a lot more in common than we do in differences, on wanting a peaceful and safe way to get around. We all just want to spread love in the streets!"
Check out the Love Bike today, and if you see it out in the Old Mill or Downtown Bend, hop on for a ride!