Neff Purcell Intersection Improvement Project
The Neff and Purcell intersection near St. Charles Bend hospital is temporarily CLOSED for
reconstruction. (See detour map below) The Neff and Purcell Improvements is a multi-phase
project that will improve connectivity, capacity, and safety for all users in a vital area of Bend.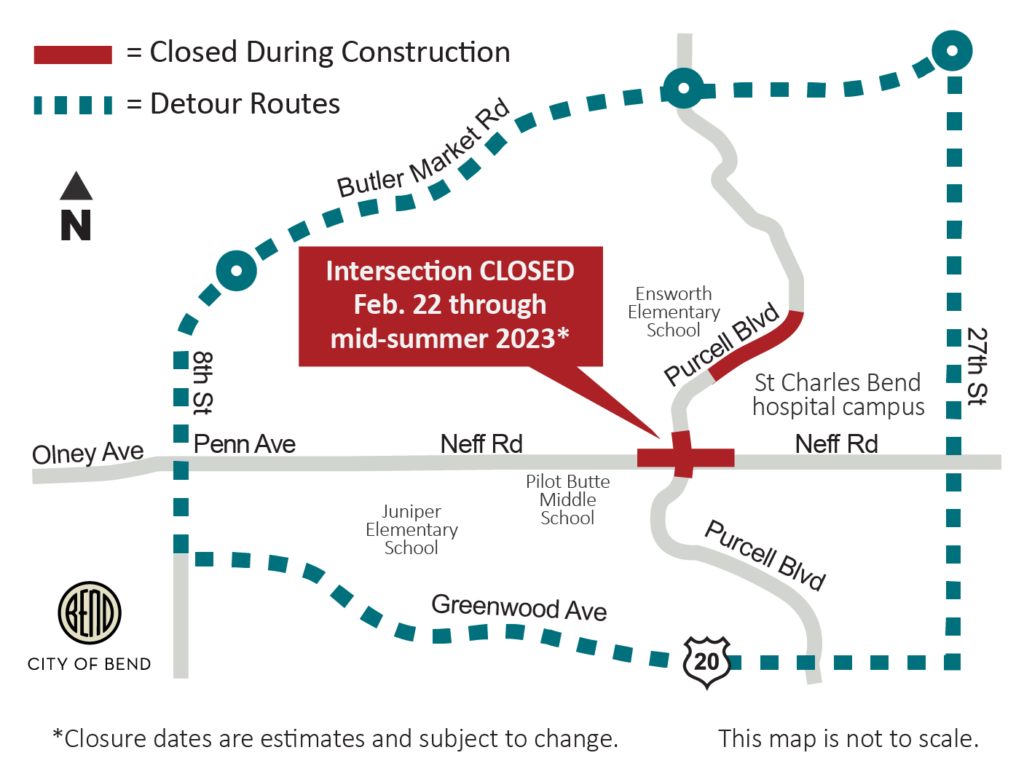 Wilson and 15th Roundabout
Construction of the Wilson Avenue and 15th Street roundabout will begin February 20 with a full intersection closure. The construction of the 15th Street roundabout is expected to be completed by the end of April 2023, weather permitting.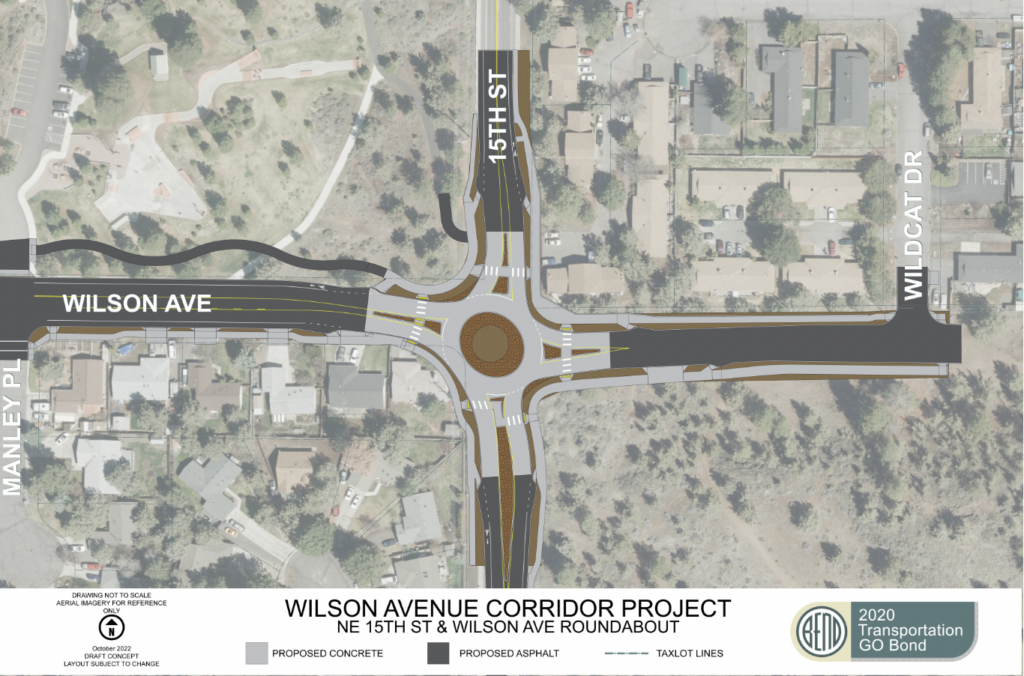 NORTHBOUND DETOUR – Take 15th Street to Reed Market Road. Turn right on 9th Street. Turn right on Franklin Avenue. Turn right on 10th Street (turns to Bear Creek Road).
SOUTHBOUND DETOUR -Take Wilson Avenue to 3rd Street. Turn left on 3rd Street. Turn left on Reed Market Road.
EASTBOUND DETOUR – Take Wilson Avenue to 9th Street.
Our Executive Director, Brian Potwin, did an interview with the Bend Bulletin about this project check it out here.
ODOT Hwy 97 Construction
Two week look ahead February 17 -March 3
​​The West leg of Cooley Road will close on 2/19.​
Crews will re-stripe U.S. 20 into Stage 1 configuration on 2/19 and will set temporaryprecast barrier to establish work area.
Crews will be demolishing asphalt, removing trees/fence/signs, and cutting subgrade on U.S. 20/West Side of Cooley Roundabout 2/21-2/25.
​​​Crews will be performing Swalley Irrigation line work off Nels Anderson by the old AVIS building, off the northbound U.S. 97 shoulder (U.S. 97 MP 134.9-135.1), within the medians between Jamison and the U.S. 20 to 3rd Street ramps (U.S. 20 MP 18.3-18.5) and NB Shoulder U.S. 20 MP 18.1, and also within the median between southbound U.S. 97 and northbound 3rd Street to U.S. 20 ramp (U.S. 97 MP 135.0-135.1).
​The demolition of the Soap Company building on Nels Anderson will also be completed.
Check out ODOT's Hwy 97 Construction page for more information.
Does this project construction impact you getting to work, school or play?
In partnership with City of Bend, Commute Options is here to help you with transportation options. Find a carpool match! Make
new friends, save gas, share the ride, join challenges and earn rewards, as available during construction.
Save money. Boost your health. Earn rewards.

Learn more and sign up at getthereoregon.org
Registration is free and simple! Contact kim@commuteoptions.org if you have questions.