Welcome To Commute Options
Through healthy transportation choices, Commute Options encourages the wellness of individuals, a clean environment, and a strong economy. Commute Options represents transportation options in our community by educating citizens, businesses, and government about the value of carpooling, vanpooling, walking, bicycling, teleworking, and using public transportation.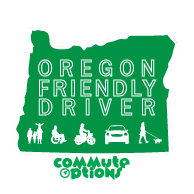 By Katy Bryce, for Commute Options All too often we hear about serious crashes between people driving and people riding bikes or walking. In fact, the Oregon Department of Transportation (ODOT) has identified Deschutes County as having a relatively high rate of...
read more
Commute Options envisions communities where people make thoughtful transportation choices to reduce the impact of driving alone. These decisions result in healthier individuals, safer streets, a cleaner environment, and a stronger economy.