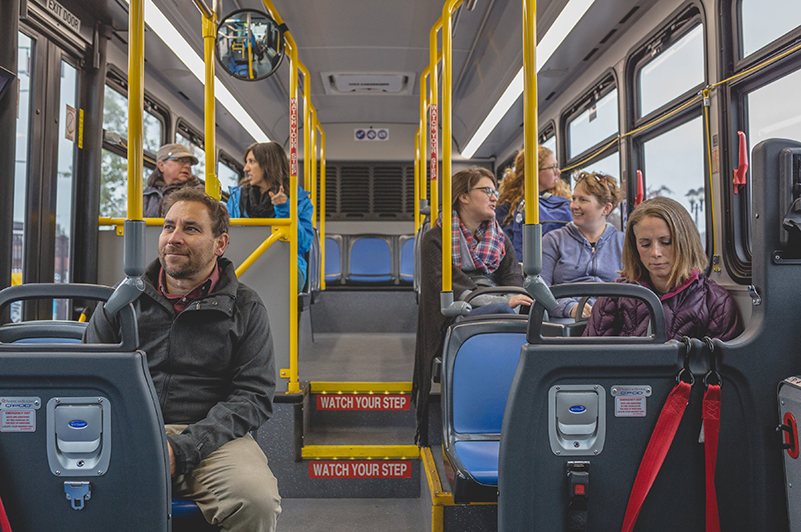 Ride the bus in Central and Eastern Oregon
Central Oregon Breeze
800-847-0167
Service to Bend, Redmond, Prineville, Terrebonne, Madras, Warm Springs, Sandy, Gresham, Portland Airport and Downtown Portland.
Commute Options
541-668-6138
Information and incentive programs to help you bike, walk, carpool, vanpool, ride a bus and tele-work.
Eastern POINT
206-438-8337 (Eugene)
For travel between Bend and Ontario. Stops in Brothers, Hampton, Riley, Burns, Buchanan, Drewsey Jct, Juntura, Harper, and Vale.
Grant County People Mover
541-575-2370
Service to Bend, Redmond, Prineville, Mitchell and Prairie City. You can travel to Burns on the 1st, 3rd, and 5th Thursdays of each month. There is a Baker City route on the 2nd and 4th Thursdays of each month.
Greyhound
541-265-2253
Service to Newport, Corvallis, Albany, Salem, Sisters and Bend
Service to Eugene
Northeast Oregon Public Transit
541-963-3187
Services are available to everyone within Baker, Union, and Wallowa counties, with high quality services in and between most communities in Northeast Oregon.  NEOT also transports qualified individuals to medical appointments throughout the northwest.
Pacific Crest Bus Lines
541-269-7183 (Coos Bay)
541-382-4193 (Bend)
Service to Coos Bay, Florence, and Eugene, interlined with Greyhound and Amtrak. Tickets can be purchased online, just click the provider name.
Quail Trail Public Transit
541-783-2219
Quail Trail Public Transit – Transports five (5) days a week Monday through Friday with five (5) routes per day between Chiloquin and Klamath Falls. The Thursday route transports one (1) Round trip from Chiloquin to Beatty to Klamath Falls and then returns in reverse order.
Shuttle Oregon 
541-903-0724
Luxury shuttle service featuring captains chairs, wifi, and 7-day per week service from Bend to Redmond, Sisters, Salem, and three stops in Portland.
Visit Bend Transportation Resources
877-245-8484
Whether you need a sober ride while treking the Bend Ale Trail, or you've flown into town and would rather not rent a car, there are ways to get around Bend without relying on your own wheels.
Join Get There Oregon to earn prizes and track your bus trips.
Your Ride Awaits
You can ride the bus all over Central Oregon.
Cascades East Transit (CET) helps you get to where you need to go – whether your destination is in your hometown or a neighboring city.
Call CET to help plan a Curb-to-Curb service ride, figure out how to meet our Community Connector bus at designated stops, ride our urban Bend Transit fixed routes – or ask us how you can do a combination of these. Just call our reservation line at 541-385-8680 to help you plan your trip and to answer any questions.
We also have information, schedules, and rider alert info by clicking here. So hop on the bus. And be a part making all of Central Oregon just a bus ride away.
HAWTHORNE STATION – Hawthorne Station is the new intermodal center located in Bend at the corner of 4th and Hawthorne. At the station, you can make connections to CET buses on Bend Transit Routes and to Redmond and La Pine. CET also provides rides to Sisters, Prineville, Madras, Warm Springs, and Metolius and Culver. You can also catch:
Mt. Bachelor Shuttle
You can catch the Mt. Bachelor Shuttle at the Bend Park-n-Ride lot located on SW Columbia St. between Galveston and Simpson (across the street from the Mt. Bachelor corporate office and bus barn. Use stop #1134 on Route 11. )
800-829-2442
Seasonal with service variations. Always call for current information.
Ride the River is the popular shuttle that transports floaters to help decrease the dependence on parking along Drake Park. Floaters can ride the shuttle for $3.00, which provides unlimited rides all day. CET's Ride the River shuttle service begins in mid-June and runs through Labor Day. On Fridays, Saturdays, and Sundays, if there is a higher volume of floaters, buses will run every 15 minutes. Service may be reduced based on cooler weather conditions and rain and may be canceled in the event of thunderstorms.

K-5th Grade video for our Safe Routes to School Program