The first day of school is right around the corner, making it the perfect time to start planning your students route to school!
This year consider walking or biking to school! Why?
Educates the community about the benefits of walking and rolling to and from school.
Improves transportation for all students, parents, and teachers.
Reduces the number of driving trips to and from schools to improve air quality and congestion.
Identifies supporters in schools to build the program and coordinate activities.
Educates youth on how to safely use the system when they are walking and rolling.
Enhances children's health and well-being.
Eases traffic congestion and air quality near schools.
Improves community members' overall quality of life.
We have numerous tools to help you build a walking or biking route to school that you and your child can be comfortable with and excited to do everyday! Scroll down to find the right fit your you and your family!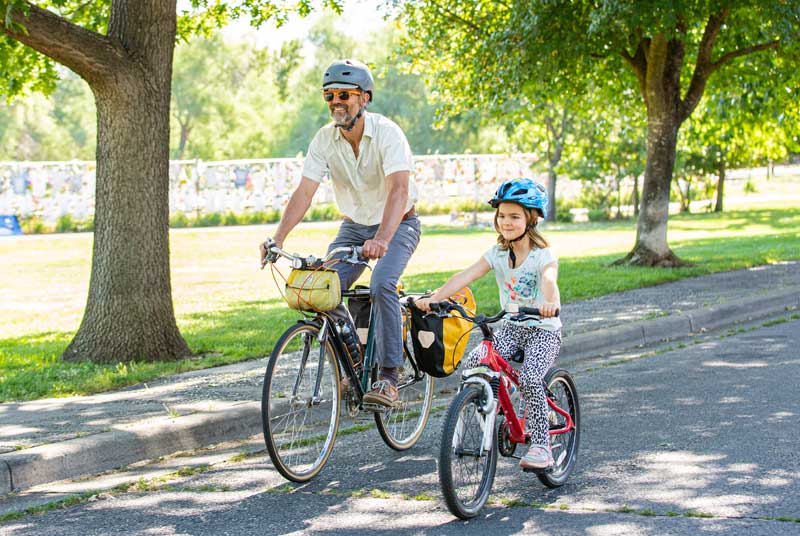 Live within the Walk Zone?
You are the perfect candidate to walk to school! Check out our walking maps here (Scroll down beyond the Walking school Bus information for more walking map options for you and your family). 
Remember these safe walking tips:
Stop at the edge of the curb
Look left, right, and left again
Wait for all vehicles to stop completely
Cross when it's clear
Looking for a biking route?
Check out Bend Bikes Bend Biking Map to get ideas about ideal routes that offer safe biking options for people of all comfort and ability levels.
Remember:
Before you ride, before you roll, strap on your helmet and take control.
Look for cars, left and right.
Brake at all corners, stop signs, and lights.
Use this checklist as your guide. Check off each one before you ride!

Air in tires
Brakes work
Chain tight
Quick release locked (wheel and seat)
Helmet on
Shoelaces tied
Right pant let rolled up
Live far from school but still want to walk or bike?
Try a park and walk or park and bike option! Just find a location near the school where you feel comfortable walking or biking from, drive there and either park and go with your student or drop them off to go the rest of the way if they're old enough and you're all comfrotable with it! This option allows your student to get all the benefits of walking or biking to school and keeps you out of the hectic drop off area.